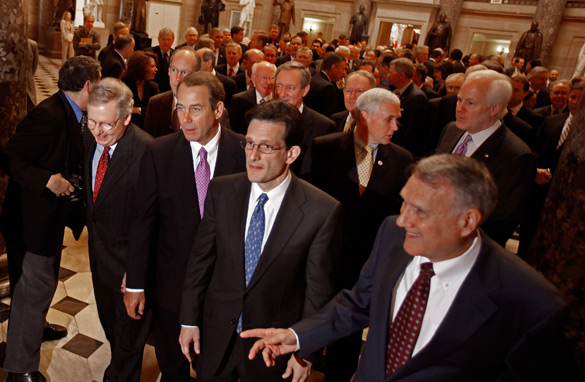 The Republican Congressional Leaders are constantly complaining about taxes. Before the elections in November of 2010 they were saying that the "uncertainty" about the extension of the "Bush Tax Cuts" was causing the corporations to not increase the hiring of unemployed Americans.
Now after President Obama signed the Bush Tax Cut extension the unemployment rate is still high at 9.1% as the corporations have not resumed hiring because, according to the Republican Leadership, "the corporate income tax rate is too high at 35% and must be reduced to 12% so that Americans will be hired again."
For an example of how much the corporations actually pay in income taxes we will use Darden Restaurants because everybody is familiar with the "Olive Garden" and "Red Lobster" restaurants. In 2010 Darden made 407 million in profit on sales of $1.98 billion (up 5% over 2009.) The company paid $136.6 million in Federal Income taxes, for a tax rate of 25.1%. (This is the average tax rate that American workers pay.)
That is compared to the 35% "statutory tax rate" that it paid ten years ago as all the corporations have learned how to take advantage of "tax credits" in the U.S. Tax Code to reduce the amount of federal income taxes they pay.
Some corporations that make billions-of-dollars in profits have managed to reduce their tax rates to less-than-zero (even receiving "Tax Credits" against future tax bills.)
General Electric had an effective tax rate of -61.3%, American Electric Power -9.2%, DuPont - 3.4%, Verizon -2.9%, Boeing -1.8%, Wells Fargo -1.4% as IBM was paying 3.8% and Exxon Mobil 14.2%. We are all familiar with these corporations because of the millions-of-dollars they spend on television advertising for their products and services.
If the Republican Congressional Leadership is successful in lowering the "Statutory Tax Rate" to 12% even more of the corporations will be paying less than zero in federal income taxes than their average American employee.
The Republicans are also campaigning for changes to the funding for the Medicare health insurance program, Click the "link" Below for Article:
This is the link